The club has two committees. The main committee meets roughly every 6-8 weeks and ensures the club is meeting the needs of its membership. The race committee takes the lead on running GCR's main events and decides whether the club will subsidise entries into particular races or events. Visit our Contact page to get in touch.
Main committee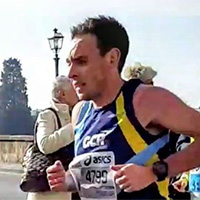 Brad Smith – Chair
Brad chairs the main committee and provides the voice of youth and running inexperience. His favourite distance is the half marathon, which he says is long enough to train for but easy enough to race! Given the opportunity, he'd love to run with Mo Farrah to tell him how he inspired him to get up off the couch and take up running in the first place.
---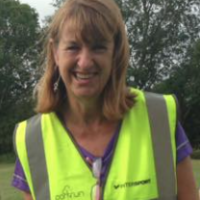 Louise Smith – Vice Chair
Louise is a late comer to running, only starting when she ran the London Marathon to raise money for charity on her 50th birthday. She is now a convert to the social and health benefits of running and is a parkrun ambassador for the area and a Run Leader with GCR. Louise's favourite running distance is a 5-6 mile GCR training run in the countryside with good company and her best loved race has to be Panshanger parkrun in Hertford on a sunny and windy morning. The person that Louise would most like to run with would be Eddie Izzard, because she says 'what a legend, about my running pace, he would keep me laughing and we can compare nail colours'.
---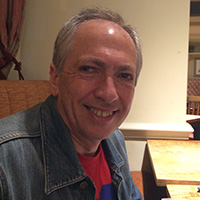 Andy Newbury – Treasurer
Andy joined GCR in 1997 just after his first ever road race which was the Flora London Marathon. Besides looking after the money you will generally see Andy every Tuesday taking out a steady group of runners for 7 miles and on Thursdays doing the Speed session. His most memorable race is the New York Marathon just for the atmosphere and favourite running partner would have to be Mo Farah to learn about success
---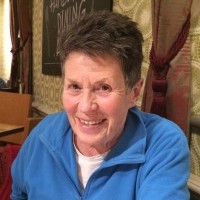 Sue Fletcher – Membership Secretary for GCR and EA
Sue's favourite distance was 10 miles but her knees don't allow that now! She feels lucky to do 5k. Her most loved race was the Marathon du Medoc – where else would you have wine stops every kilometre and oysters at 40k? Sue doesn't have a favourite running partner as she has always preferred to race alone (ok Sue, we get the hint).
---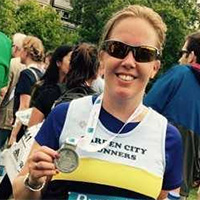 Helen Paine – Secretary
As well as ensuring our committee meetings are effectively organised and minuted, Helen is also Ladies Vice Captain and a Run Leader. Helen's preferred running distance is 10k and her favourite races are the Mid Week League and cross country as they are a great opportunity to run as part of a team. The athletes that Helen would most like to meet are the Brownlee brothers so that she can pick up triathlon tips. Her own top tip is to join a running club to keep you motivated!
---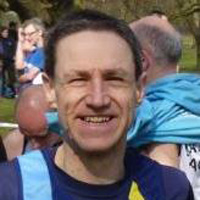 Sean Bowen – Committee Member
Sean loves all distances, from a mile time trial to a marathon. He's particularly fond of the Round Norfolk Relay (who isn't!). His favourite running partner is Barry Osbourne who used to run for us but has since defected to Fairland Valley Spartans.
When it comes to being the best you can be, Sean says: "to get the most out of your training, you have to be regular, sensible and stubborn. Don't fit your training in around your lifestyle, fit your lifestyle in around your training!"
He represents GCR at the quarterly meetings of the Herts AAA Road Running Subcommittee, and at the AGMs of the Midweek League and Sunday Cross Country League.
---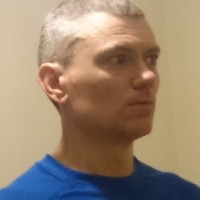 Richard Somerset – Committee Member
Richard's a member of the main committee, and votes and has opinions. His favourite distance is 5k, and his favourite race is probably the Hatfield 5k.
---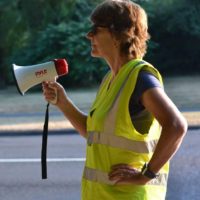 Jane Molloy – Committee Member
Jane joined the club in January 2013 having secured a place in the London Marathon and realising it might need more than a couple of miles running round the block to prepare. She helps out with leading beginners-plus groups and is one of the GCR newsletter editors. Her favourite race distance is 10 miles and her specific favourite race is the Tissington Trail half marathon, with its gentle downhill incline from start to finish!
---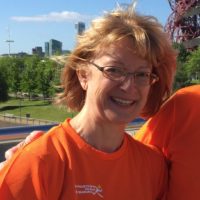 Karen Atkinson – Committee Member
Karen joined GCR about six years ago after watching the mid-week league run past her front door and thinking that looked more fun than using a treadmill at the gym. She is one of the run leaders and enjoys leading the 10 week beginners' courses. Her favourite distances are 10 miles and half marathons.
---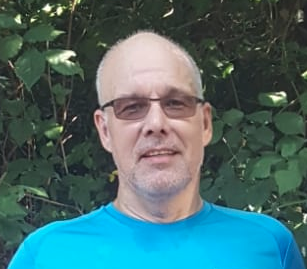 Tony Harden – Committee Member
Tony joined the club in November 2016 with his son who was embarking on his Gold Duke Of Edinburgh award. He regularly leads and encourages the Improvers group. His favourite run race distance is 8km. He also cycles, orienteers and participates at Be Military Fit because exercise is good for the mind. "I am a firm believer in taking part rather than the results (which is fortunate given my results) and that all sports statistics should be in km/metric."
---
Race committee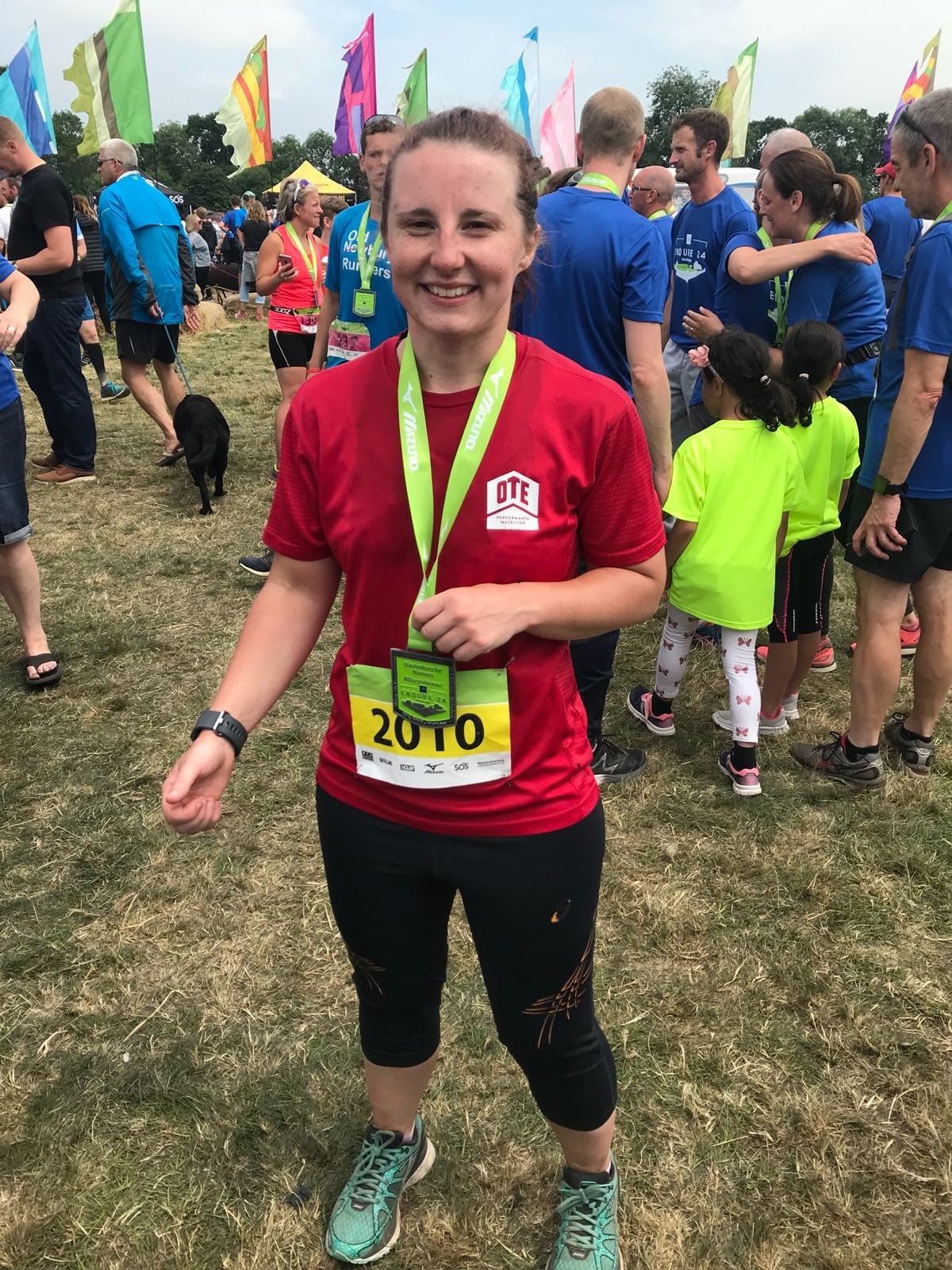 Charlee Chapman – Women's Team Captain
Charlee started running back in 2011 but its was her transition into triathlon that led her to join GCR where she has benefited from the variety of sessions GCR has, from Tuesday night intervals to the X Country events. Through her training with GCR she has been able to improve her running speed and endurance, which comes in useful when she needs to keep the legs going after a bike ride! She is keen to promote multi sport events within the club, believing 'variety is the spice of life'! (and its always good to give those knees a rest on the bike!) As a club GCR has many other multi sport members and welcome those who are just as happy in the water or on 2 wheels!
---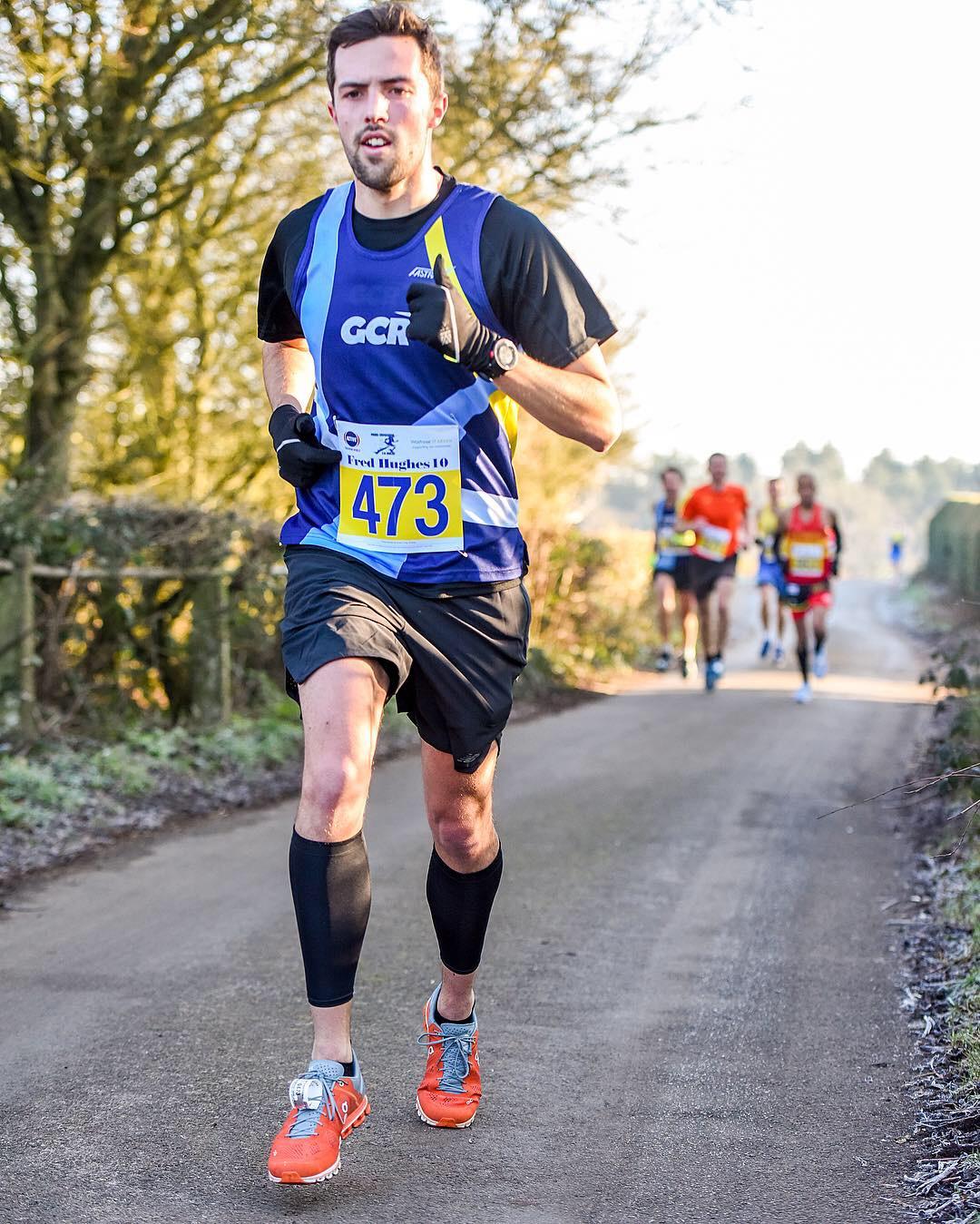 James Huish – Joint Men's Team Captain
James started out with his running journey by training for a charity 10K in 2014. Since joining GCR in 2017, James owes it to the club for enabling him run longer and faster, train better, more frequently and relishes the social benefits of club running. James loves the simplicity and accessibility of the 5K distance…but isn't disciplined enough to take a Parkrun 'easy'. James is now Men's co-captain with his friend and equally matched (at time of writing) running nemesis, Tom.
---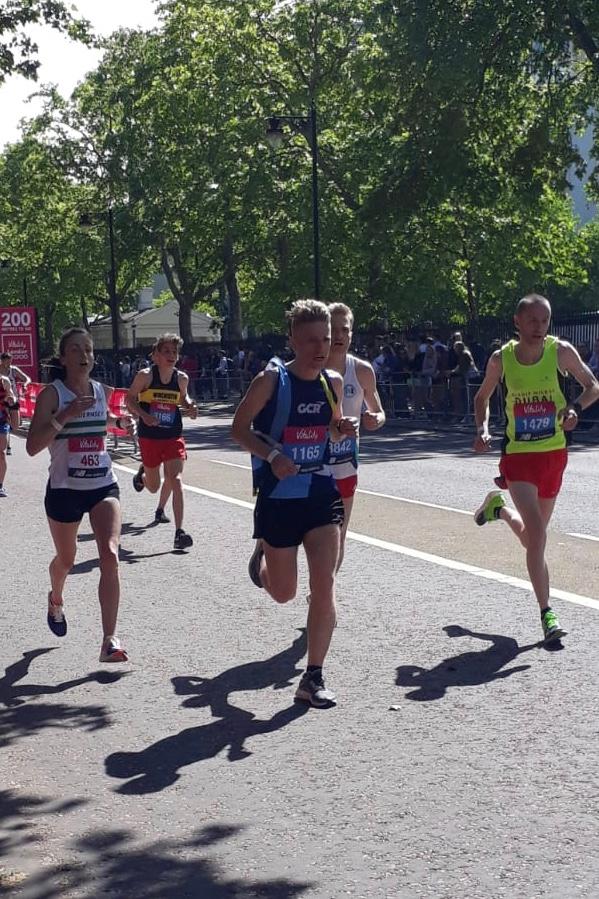 Tom Wackett – Joint Men's Team Captain
Tom is the joint mens captain with James Huish. Tom sits on main and race committees. He is most suited to 5-10k events although loves racing all distances. He hopes to encourage attendance and participation in club events, whilst improving the clubs standing in competitions. His favourite races are in the Sunday XC and MWL. This is due to the competitive and friendly spirit displayed between all club runners at the events.
---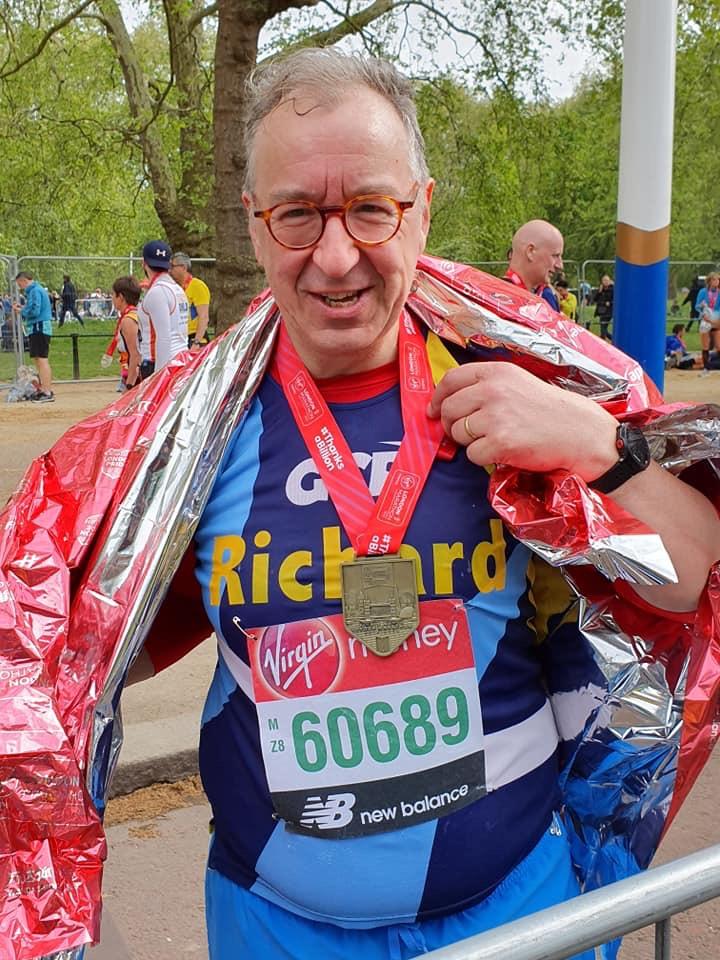 Richard Darley – Men's Team Vice-Captain
Richard is men's vice-captain. He joined GCR in 2014 after realising running on a treadmill at the gym is the dullest thing ever and now runs at any event that has a decent medal and an XXL t-shirt. Running highlight is taking part in the 2019 London Marathon where he managed to overtake that geezer off Eastenders.
---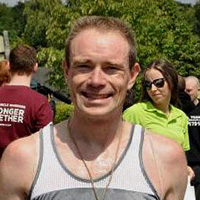 Peter Harvey
Peter is the Race Director of the MWRRL Mob Match, long time Race Director's Assistant for the Welwyn 10k and 5k Series, Festive 5 helper and in the past RD for the New Garden City 10 miler. He compiles marshal's instruction documents, keeps race supplies stocked up and buys trophies for many events. He is an ultra runner/cyclist and triathlete with a claim to fame as Britain's most prolific teenage long distance runner of the 1980s running marathons since aged 13. He writes about running and has most of his work published in America.
---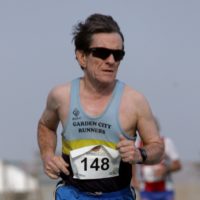 John Davis
John is a former Chair of the Race Committee, and has been racing since 1985. His favourite race is the Half Tour of Bradwell – 16 miles off road through the Peak District with 1000m of climbing (and descent!). Having himself lost over 17kg from his chocolate-and-cake gut with the help of running, he is keen to encourage people of all sizes, shapes, and abilities to get out and run.
---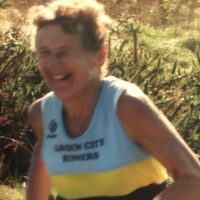 Eleanor Draper
Eleanor has been a member of Garden City Runners for 30 years, alongside her husband Dennis. Together they have each run over 200 marathons and have also been involved in many of the club's committees. In Eleanor's own words 'the club has a friendly and helpful atmosphere, and we really enjoy the social side to the club, as much as we love the running! Since joining the club we have been able to enjoy many years of running as well as making many amazing friends and having the opportunity to participate at runs in so many locations. One of the main things we have taken from our time at the club is that you are never to old to start running, as we did not join until our 50's and have loved every minute since!'
---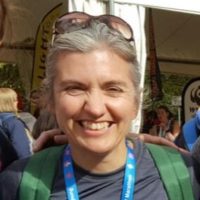 Sarah Halliday
Sarah has been a member of GCR since 2004 and has recently joined the race committee. She enjoys running for lots of different reasons including the social aspects, increased fitness, satisfaction in overcoming challenges and the chance to get really muddy. Her favourite race is usually the most recent one she's done, but she especially enjoys off-road races with interesting scenery.